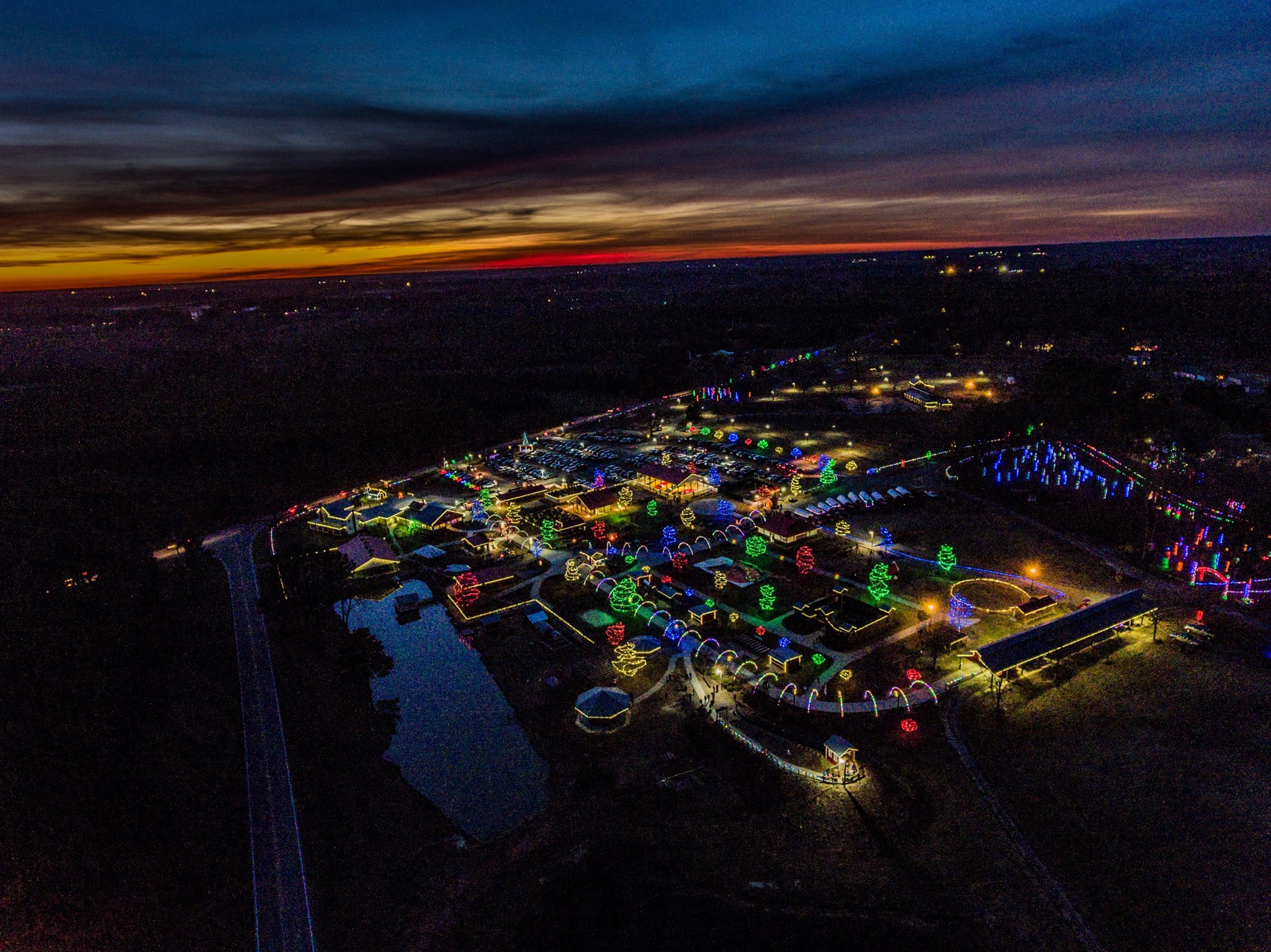 During our Festival of Lights, Hill Ridge Farms will be transformed into a magical celebration of Hometown Christmas Cheer! Our Covered wagon hayride will take you through one of the biggest Christmas light displays on the east coast. We will have plenty of great food, bonfires, and traditional Christmas music that the entire family will enjoy!
What better way to celebrate the holidays with your friends and family than to come join us at Hill Ridge Farms for a beautiful Old Fashioned Christmas celebration!

Festival of Lights

No reservations. You purchase admissions when you arrive. We accept Visa/MC. For faster check-in cash is recommended. Our credit card machines run on an internet signal that can be slow down on the farm!
Admission:Sun,Mon,Tues,Thur Hours 5pm-9pm
First hayride starts at 6pm
Under 2 FREE
Ages 2-64 $10 includes hayride
Seniors 65+ $9
Groups of 10 or more $9
Military $9
Admission: Fri & Sat Hours 4pm-10pm
First hayride starts at 6pm
Under 2 FREE
Ages 2-64 $12 includes hayride.
Seniors 65+ $11
Groups of 10 or more $11
Military $11

Admission: Winter Wednesday Discount
Hours 5pm-9pm
Everyone age 2 and over $8 includes hayride.
Under 2 FREE

*Our Train is currently under remodel and is not available. We will update our website when our remodel project is complete and our Train is available

---
Helpful tips to plan your Santa visit:


*Santa is here nightly 11/23-12/23
*Once you purchase your Festival of Lights admission you will go directly to the Santa house located beside our Hayride area to request a card with the time slot for your visit. Time slots are assigned on first a come first served basis. We will make every effort for your family to be able to see Santa within the 30 min window that will be printed on your card. During peak nights Santa may be a few minutes behind schedule. We appreciate your patience should this occur.
*During peak nights Santa time slot cards are usually all given out within the first 2 hours of the park opening. On non-peak nights we usually do not fill all of the slots. Please plan accordingly.
*We do realize Santa is a very important part of your holiday traditions and we would love for him to be able to visit everyone but it is simply not possible. We are open nightly and have Santa here nightly to be able to offer as many possible evenings for your family to enjoy a visit with him.

Non-Peak Nights for Santa Visits

: 11/26-11/30, 12/3-12/7, 12/10-12/14
Peak Nights for Santa Visits:

11/23-11/25, 12/1-12/2, 12/8-12/9, 12/16-12/23