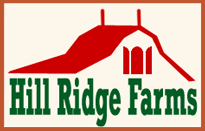 Hours of Operation:
M-F 9-6:30
Sat 9-8:00
Sun 9-6:30

703 Tarboro Road
Youngsville, NC 27596
Get Directions
Email:
(919) 556-1771
Fax: (919) 556-5881
*Best Value*


All-Inclusive Superpass $25


All play areas, Unlimited Train Rides,

Unlimited Hayrides.Pumpkin,

Gem Stone Panning,

Duck Race, FREE return ticket to

the Festival of Lights.



General Admission


Ages 2-64 $14 Includes

Hayride, Pumpkin & play areas

Senior Discount 65+ $13

Groups of 10 or more $13

Military $13

Added Fun

Train $3

Gem Panning $7-$25




2019 Annual Pass




$65 each person. Includes

unlimited visits April-Dec.

4 or more $50 each Great Gift Idea!

No pets allowed. No smoking.













Welcome to Hill Ridge Farms!

Welcome to the Triangle's best destination for old-fashioned family fun, group and family outings, picnics, school field trips, birthday parties, and more!

---
9am-6:30pm Mon-Fri
Sat 9am-8pm Sun 1pm-6:30pm
We will be closed Tuesday, 10/22 due to inclement weather. We will Re-Open Wednesday, 10/23 at 9am.
We are currently booking all 2019 Field Trips,
Corporate Events

Please call 919-556-1771 to reserve your date
Fall Festival Birthday Parties are no longer available.
We will begin booking Spring/Summer Birthday Parties March 2020
**Upcoming Special Events**
Festival of Lights 11/28-12/28
Open Nightly


Important tips for your visit:

*We host school field trips Tuesday-Friday 9am-1:30pm. If possible we recommend families visiting 1:30pm-6:30pm if you choose to visit our farm during the week. We do not host school field trips on the weekends
.
*We accept Visa Master Card and Cash. We do not accept American Express, Discover, or personal checks.
We do not have an ATM.

*We do not offer online tickets*
*We do offer gift cards*

*You will purchase admission tickets at our ticket booth
or inside the country store.

*We love our pets also but for the safety of both your pet and our guests we do not allow them at the farm.

*We offer lot's of yummy food choices at the farm but you are always welcome to bring in your snacks with the exception of alcoholic beverages.

*We do not allow smoking or vaping at our farm.
---
Families are always welcome without a reservation at Hill Ridge Farms. We are open daily offering Train Rides, Hay Rides, Gem Stone Panning, Farm Animals, and great made to order food in our Chuckwagon Grill.

We also have a 55-acre farm themed play-park
full of fun and exciting activities that are always included with your admission at no additional charge.

*Giant 80ft Slide*Jumping Pillow*Colorful Maze*Hay Jump*Roller Slide*Mini Rock Climbing Wall*Corn House*Slide House* and more! Come join us for some fun family time together.
---

It's time to book your Fall Field trip!

**10 students required for field trip package**
Sept. 23-Nov. 1
All school staff free with 20 or more students

Field trip options offered Monday-Friday only
Applies to schools, daycares, and track-out camps only

All Packages include unlimited access to the following

Jumping Pillow

Giant Slide
Farm Bounce House
Pumpkin Bounce

Hay Jump
Corn Playhouse
Slide House
Colorful Maze
Pipe Swings
Farm Animals
Fish Feeding Dock
Picnic Areas

Country Store
Option A:
Free Pumpkin with Hayride
Price = $11.00 per person (Includes tax)
---
Option B:

Free Pumpkin with Hayride and Train Ride

Price = $13.00 per person (Includes tax)

---
Option C:
Gem Stone Panning with Hayride with Free Pumpkin
Price = $14.00 per person (Includes tax)

---
Option D: All Inclusive Package
Gem Stone Panning with Hayride and Train and Free Pumpkin
Price = $16.00 per person (Includes tax)
---
---
,

Tasty Food options at the farm
Chuckwagon Grill:
Open Mon-Fri 10:30-2:30
Sat 10:30-7:00
Sun 10:30-3:00

Offering indoor, casual dining.
All combos served with choice of Fries, Chips,
Applesauce and drink.
Chuckwagon Cheeseburger Combo $8
"Big John" Double Cheeseburger Combo $10
Crispy Tenders 4 pc Combo $8
Crispy Tenders 2 pc Combo $6
Buffalo Tenders 4 pc Combo $8
Classic PB&J Combo $5
All-American Beef Hot Dog Combo $5
Grilled Chicken Sandwich Combo $8
Old Fashioned Grilled Cheese Combo $5
Harvest Chicken Salad Wrap Combo $8

Hill Ridge Farms Country Store: Open daily offering our delicious Homemade Fudge, Hershey's Hand-Dipped Ice Cream, and our famous apple butter, preserves, jams, and jellies.

---
Reservations are now being accepted for field trips, corporate events, and track-out camp outings.
919-556-1771 or email funonthefarm@hillridgefarms.com

---
Member Wake Forest Chamber of Commerce and Franklin County Chamber of Commerce