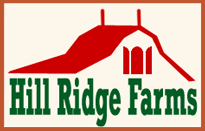 Hours of Operation:
Wed-Fri
10-5:30
Sat 10-5:30
Sun 1-5:30
Closed Mon&Tues

703 Tarboro Road
Youngsville, NC 27596
Get Directions
Email:
(919) 556-1771
Fax: (919) 556-5881
Spring/Summer
General Admission

Ages 2-64 $14.95
Ages 65+ $12.95
Military $12.95
Under 2 Free
Includes:Hayride, picnic
areas, Splash pad,

Farm Animal Corral,

Fish Feeding Dock. All
general play areas.
Add On Fun:
Train Ride $4
Carousel $4
Gem Mine Bags $8-$25
Duck Race $2
**Best Value**
$24.95
All Inclusive Superpass!
Includes all of general
admission PLUS unlimited

train rides, carousel
rides, covered wagon rides,
gem mine bag, duck race.
2023 Farm Fun Pass
Available Now!
4 or More $75 per person
1-3 $85 per person
Includes Unlimited
Visits April-October
Wagon Ride, Train Ride,
Carousel Ride, All
general play areas each visit.

919-556-1771
to order your

Farm Fun Pass
by phone or

purchase during

your visit.

Have your Birthday Party at Hill Ridge Farms!
Special Package Prices for Memorable Birthdays!
---
Birthday Parties are available daily, April through November during operating hours. Picnic grounds near the playground are the perfect place to hold your party! For reservations, or for more information about the special party packages described below, call (919) 556-1771.
---
---
A non-refundable deposit equal to 1/2 the total cost of your event is required for your reservation.

Rescheduling and cancellations:
If it is raining on the day of your scheduled event, you may wish to call and reschedule for any time up to 1 year from your original date.

Please call at least (2) days prior to your scheduled event if you need to cancel for any reason other than rain.

Arrival time:
In order to accommodate everyone, we need your group to be prompt for your scheduled event.

Time on the Farm:
Most groups spend approximately (2½) hours on the farm, however, you may lengthen or shorten your stay to fit your needs.

Remember to RESERVE EARLY FOR THE DATES OF YOUR CHOICE!
---
Member Wake Forest Chamber of Commerce and Franklin County Chamber of Commerce